Eve Sussman

Ms. Sussman has come a long way from her solo debut at the Bronwyn Keenan Gallery in SoHo in 1997, where she showed funky, live-feed video broadcasts of pigeons roosting in the building's airshaft. By 2004, she had replaced Discovery Channel Post- Minimalism with Masterpiece Theater grandeur in "89 Seconds at Alcazar," a mesmerizing 10-minute video projection that wended its way through what appeared to be a modeling session for Velazquez's elaborate painting "Las Meninas." Fraught with whispered exchanges, rustling silks and discreet gestures, this piece became the breakout hit of the 2004 Whitney Biennial.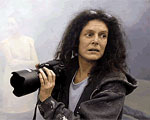 Nina Czegledy

Nina Czegledy is media artist, curator and writer, has collaborated on international projects, produced time-based and digital works, and participated in workshops, forums and festivals worldwide. Czegledy is the president of Critical Media, a Canadian-based Knowledge Institute. She is a member of the LEAuthors as well as the Leonardo SpaceArt Network. An advisor to the UNESCO DigiArts Portal, a Yasmin group moderator, Nina Czegledy is a Senior Fellow at KMDI, University of Toronto, Honorary Fellow at the Moholy Nagy University Budapest and Adjunct Associate Professor at Concordia University, Montreal. Czegledy is the outgoing Chair of the Inter Society for the Electronic Arts (ISEA).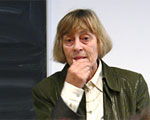 Victor Alimpiev

An artist whose works are characterized by a unique visual language that demonstrates a concrete grasp of choreography and rhythmic manipulation. Participant of the 50th Venice contemporary art biennale, BODY DISPLAY at the Vienna Secession, 2004, HORIZON OF REALITY at MUKHA (Antwerp, 2003) and other contemporary art forums. His films were screen at the Oberhausen International Short Film Festival and at the Rotterdam International Film Festival (2005).