The "Talking Cinema" program at summer movie theater MUZEON

June 23, 26, 30, July 7 and 14, 2015, 22:00
Summer movie theater MUZEON, Krymsky val, building 2
Curator: Alexey Artamonov (Russia)
Participants: Nicolas Rey (France), Alain Cavalier (France), Jonas Mekas (USA), James Benning (USA), Angela Ricci Lucchi & Yervant Gianikian (Italy).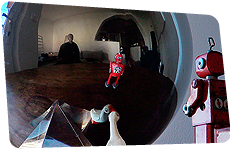 Parallel Program of the XVI Media Forum will be held at the Summer movie theater MUZEON. Talking Cinema Program curated by film critic Alexey Artamonov consists of several outstanding pieces of contemporary avant-garde cinema, where authors experiment with possibilities of narration. The program will present films-essays "Differently, Molussia" by Nicolas Rey, "Le Paradis" by Alain Cavalier, "Out-takes From the Life of a Happy Man" by Jonas Mekas, "Pays Barbare" by Yervant Gianikian and Angela Ricci Lucchi and "Stemple Pass" by James Benning. The film directors work differently with tactics of the so-called talking cinema; their films – diaries, films – confessions, films – poems participated in programs of leading international film festivals — Berlinale, festivals in Rotterdam, Locarno, Toronto, Vienna and Torino. Artistic strategies of these films go beyond both traditional entertaining cinema and festival art mainstream, that is why their works remain virtually unknown to the mass audience. Screenings at the Summer movie theater MUZEON will provide the important film directors with a place within public space and give an opportunity to the mass Moscow audience to get acquainted with their work.
It is a long time since cinema stopped being silent, yet narration is still used mostly as an instrument of telling the story. And although relation between image and narration is poorly reflected upon, it is safe to say that range of possibilities of the latter is considerably wider, as shown by numerous examples. This program is devoted to various tactics of 'talking cinema', brought together solely by having film body and its voice.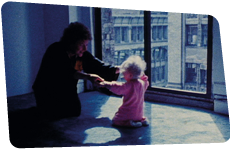 Completed several months before 90‑years anniversary of Jonas Mekas, the film "Out-takes from the Life of a Happy Man" (2012, 68'00'') is the last part of his movie diaries. A film-poem, in spirit and form close to his verbal poetry is similar to his other movies and at the same time completely different. It is a farewell look at his own creative work, film, life and those with whom he was lucky to share it.
83‑year old maître of French cinema Alain Cavalier creates his video essays with portable video camera only, finding poetry in very mundane and unexpected places. "Les Paradis" (2014, 70'00'') is a meditation on life and death, a mix of everyday observations, memories, biblical and ancient parables. By means of narration he always manages to recreate his inner world in objects that fall into camera's field of view.
Film "Differently, Molussia" (2012, 81'00'') by French avant-garde director Nicolas Rey is shot on overdue 16 mm film and consists of 9 parts randomly combined for every new screening.
"Stemple Pass" (2012, 121'00'') by James Benning is one of the most significant and interesting of his recent works. It is devoted to Unabomber — radical terrorist, genial mathematician, neo-luddite, anarchist and social critic, who moved to live in the woods and then declared war on civilization. An image of idyllic landscape is accompanied by narration of his texts: early diaries, coded reports on making first bombs, famous Unabomber's Manifesto and interview given already in prison.
Yervant Gianikian and Angela Ricci Lucchi are veterans of found footage documentary. Using private chromicle, narration and songs with texts of Henri Michaux in their film "Pays Barbare" ("Barbaric Land") (2013, 65'00'') they address brutality of the Italian imperialism of the 20-30s.
---
Venue
Summer movie theater MUZEON
Krymsky val, building 2
muzeon.ru
---
Contacts
Julia Grachikova
+ 7 (905) 719-66-85
ididshe@gmail.com